Multi-Stage Assessment
Our highly-skilled team of experts will perform the following multi-stage assessment
Stage 1: Visual Needs Analysis
Before we take any measurements or perform any tests, we sit down with you to learn about your habits and day-to-day needs. This personal consultation enables us to determine exactly how your new ZEISS precision lenses can support you. We discuss:
Your daily activities and habits
Your visual needs
Your concerns and expectations
Stage 2: Precise Eye Map - i.Profiler® Plus
As unique as your fingerprints. Using the latest technology, i.Profiler® Plus generates an in-depth profile of your sight: your own personal eye map. What's more, since the effectiveness of your lenses changes according to the light, we analyse your eyes' performance in both daylight and darker conditions, and align the results with your prescription.
i.Profiler® Plus takes 1,500 measurements per eye. Together with parameters provided by additional tests, this information helps us accurately determine and define the strength of your ZEISS lenses. Using i.Scription® Technology by ZEISS, we then create a prescription to 1/100th of a dioptre that is perfectly in step with your needs.
Stage 3: Eye Health Check
The next step on your ZEISS Vision Analysis is your ocular health examination. Your eye care practitioner will carefully measure the pressure in your eyes to test for glaucoma. Moreover, he or she will perform a microscopic examination of the surface of your eyes to screen for conditions such as dry eye and lid margin disease.
They will also carry out a dilated examination of the lens, the retina, and the optic nerve to check for cataracts, diabetic eye disease, macular degeneration and glaucoma, as well as retinal tears, holes, or detachments.
Stage 4: Visual Performance
When it comes to measuring and analysing your sight, the right technology is key. But it cannot entirely replace face-to-face interaction between you and your ZEISS eye care practitioner. Our highly experienced professionals have the expertise and the measuring devices required to build an accurate picture of your visual needs.
We analyse a host of visual parameters, bringing you a multitude of benefits:
Clear vision in every situation
Excellent 3D perception
Customised ZEISS precision lenses based on your exact prescription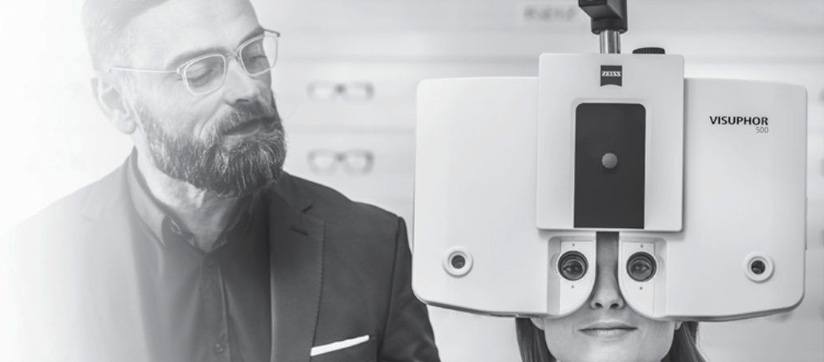 Stage 5: Frame Selection
We are committed to delivering the perfect package for you – perfect vision in the perfect frame. And we offer a wide selection of models to suit your precise needs and preferences:
A frame that either complements your features or purposely makes a statement by altering your appearance
A frame designed for a specific function and manufactured using suitable materials that meets all your requirements
Stage 6: Lens Positioning
… precision to 1/10th of a millimetre in your frame.
ZEISS Centration Technology determines the exact position of your lenses within the frame, calculated to 1/10th of a millimetre. This unique centration process guarantees 100-per-cent performance from your ZEISS precision lenses.
We take time to fit your lenses correctly, which means
We avoid typical fitting errors that can reduce effectiveness by more than 40 per cent
You can look forward to improved, more relaxed vision
Stage 7: Unique Solution for Face & Eye
Every eye is unique. Every face is unique.
That's why you need a unique solution – one that seamlessly fits the anatomy of your face and is tailored to meet your precise requirements. We take all your key facial parameters into account when we design your lenses and combine them with your chosen frame.
Stage 8: Lens Choice
All ZEISS glasses lenses are designed and developed on the basis of over 100 years of experience and by using leading-edge technology.
Throughout the entire production process, we conduct rigorous checks to ensure all our lenses meet the highest standards of quality. We will tailor-make your glasses in line with your requirements and wishes.
Learn More